Fellow movie blogger CS at
Big Thoughts From A Small Mind
got an early start on
Fandago Grooves'
"A Life In Movies" Blogathon
! The idea is simple:
starting with the year you were born, list your favorite movie for each year through 2011
. Although it doesn't officially kick off until May 8th, I'm far too excited to wait! Here's my list!
1988: "Beetlejuice" -
This movie single-handedly kicked off my Tim Burton obsession.
1989: "Indiana Jones & The Last Crusade" -
I used to watch this on my grandparents' RCA Video Disc Player!
1990: "Goodfellas" -
So many incredible performances and such a fun movie to watch.
1991: "The Rocketeer" -
A lot of people forget about this one, but it's a classic.
1992: "A League Of Their Own" -
I laugh out loud every time I watch this again.
1993: "Jurassic Park" -
One of my earliest memories of going to the movie theater...damn, that T-Rex was loud!
1994: "Dumb and Dumber" -
Funniest. movie. of. all. time.
1995: "Desperado" -
Steve Buscemi's monologue is absolutely priceless.
1996: "Romeo + Juliet" -
Baz Luhrman's vivid imagination made this movie unforgettable. I still cry every time!
1997: "The Fifth Element" -
One of my favorite sci-fi movies of all time. Luc Besson is such a genius.
1998: "Saving Private Ryan" -
Such an insult that this movie lost Best Picture to "Shakespeare In Love."
1999: "The Boondock Saints" -
Because you can always use a bit of rope.
2000: "Memento" -
Ahh, the world gets a proper introduction to the awesomeness that is Christopher Nolan.
2001: "Donnie Darko" -
Why are you wearing that stupid man suit?
2002: "Lord Of The Rings: The Two Towers" -
Epic epicness!
2003: "The Matrix Reloaded" -
Damn, I friggin' love the freeway chase.
2004: "I Heart Huckabees" -
I really can't say enough for this movie. It had a huge impact on my own personal philosophy.
2005: "The Constant Gardener" -
For once, the movie was just as good as the novel. Rachel Weisz was so amazing.
2006: "The Descent" -
I'm not much of a horror fan, but this movie was flawless - scary and smart.
2007: "Into The Wild" -
The combination of Sean Penn directing and Eddie Vedder composing made this movie so emotional.
2008: "The Dark Knight" -
I've probably watched this movie 50+ times.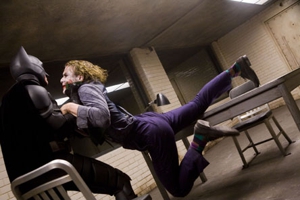 2009: "District 9" -
This movie sucked me right in. I couldn't take my eyes off of it!
2010: "Inception" -
You're shocked, I know.
2011 (So far...): "Sucker Punch" -
I don't care what anyone thinks, I friggin' loved it!