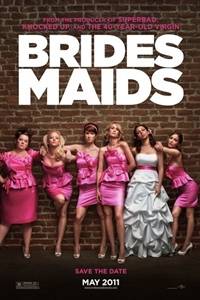 Contrary to popular opinion, "Bridesmaids" is not
The-Hangover-for-chicks
. It's not
Old-School-for-chicks
, and it's not
Wedding-Crashers-for-chicks
. In actuality, Paul Feig's "Bridesmaids" is not a 'for-chicks' movie at all. It's been a long while since I've seen a comedy with balls of steel and a heart of gold. I think the last one I can easily recall is "There's Something About Mary." With comedy, it's diffcult to mix dick jokes and irreverent references to wolfpacks with a touching story and a life lesson to be learned without coming off as pretentious (e.g. Sandler's "Click"). "Bridesmaids" pulls of this near-impossible hybrid with flying colors, thanks to the comedic genius of Kristen Wiig and an equally hilarious supporting cast.
Annie's (Kristen Wiig)
life is falling apart - her cake shop has gone out of business, she drives a crappy car, her roommates want her out of the apartment, her f*ck buddy
Ted (Jon Hamm)
is a complete douchebag who treats her like dirt, and her job as a salesperson at a jewelery store is in serious jeopardy. Meanwhile, her childhood friend,
Lillian (Maya Rudolph)
is engaged and on the way to living a fairy tale life. When Lillian asks Annie to be her maid of honor, Annie faces the challenge of taking on more responsibility than she's used to. Not only does Annie have to come up with ideas for the bachelorette party and the wedding shower, but she also has to deal with Lillian's quirky ensemble of bridesmaids: the rich and prissy
Helen (Rose Byrne)
, desperate housewife
Rita ("Reno 9111" actress Wendi McLendon-Covey)
, the immature and Disney-obssessed
Becca (Ellie Kemper)
, and the stout sister-of-the-groom
Megan (Melissa McCarthy)
. Together, the group endures Annie's awful plans - such as hitting up a ghetto Brazilian restaurant prior to a dress fitting. Annie's biggest challenge is to maintain her best friend status with Lillian, as the snobby Helen attempts to outshine Annie in almost every way imaginable. There's a particularly hilarious scene in which Annie and Helen compete in a best-congratulations-speech at the engagement party. Like a classic Kristen Wiig SNL skit, the joke goes on for too long - until it just becomes wickedly funny all over again.
Amidst the hustle and bustle of the wedding, Annie meets state patrol officer
Nathan Rhodes (played by "The IT Crowd" actor Chris O'Dowd)
as she gets pulled over for her broken taillights. When officer Rhodes learns that Annie was in fact the owner of Cake Baby, he lets her off the hook. There's strong chemistry between Annie and Rhodes, and their whole side-story gives the movie a sweeter tone that manages to remain humorous. In particular, Chris O'Dowd is the perfect match for Kristen Wiig - in a comedic sense. His Irish-laden awkwardness goes perfectly with Wiig's offbeat behavior, and as an on-screen couple, Annie and Nathan are perhaps one of the sweetest I've seen.
"Cha-ching, boo boo!"
Kristen Wiig is definitely the stand-out performer in the movie. I've been a fan of hers ever since I saw her Judy Grimes skit on SNL. I don't know what she smokes, but Kristen Wiig is unbelievably funny. Did anyone else see "Macgruber?" Oh my god, she killed me! And she was actually pretty funny in "Paul" too. It seems so rare these days for a funny woman to headline a comedy film - I think the last one I can remember is "Baby Mama," which I enjoyed thanks to Amy Poehler (not-so-much-thanks to Tina Fey). I know that Wiig has been around for a long time, but I really hope that she'll be getting more lead roles.
On a smaller note, I know that many people will be talking about Melissa McCarthy after seeing this movie. Her character, Megan, reminded me of Allen (Zach Galifianakis) in "The Hangover." She was unnecesarily aggressive, both physically and sexually, and I don't know how McCarthy managed to get through some of her outlandish lines with such a straight face. She'll probably land more roles, as did Galifianakis, but hopefully her brand of humor won't burn out as quickly.
I was afraid that "Bridesmaids" was going to be another case of all-the-funny-stuff-was-in-the-trailer (*ahem* "Your Highness," I'm referring to your lame ass). But instead, "Bridesmaids" was an unexpectedly hilarious lesson in getting your life back together. I laughed all the way through, and I even got a bit misty-eyed during some scenes, too. When you watch movies like "The Hangover" and "Old School," you're expecting to laugh your ass off, which they succeed in doing, making them memorable comedies. But "Bridesmaids" goes beyond the standard comedy, and delivers a sweet message that will engage your emotions - without letting you forget how f*cking funny the movie is. It's a heavenly combination that few comedies ever get completely right.
P.S. -
I can't wait to see the gag reel on the dvd when it hits!!!